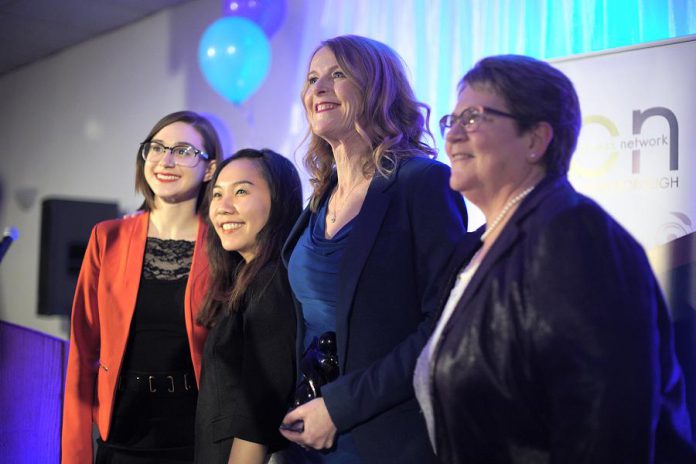 While the Women's Business Network of Peterborough (WBN) supports and promotes its members throughout the season, WBN also celebrates the achievements of all local women — whether WBN members or not — through two prestigious annual awards: the Women in Business (WIB) Award and the Judy Heffernan Award.
Both the WIB Award, which recognizes a woman who demonstrates leadership in local business, and the Judy Heffernan Award, which recognizes a woman who empowers other women to succeed, are open to any woman in the City or County of Peterborough.
"Our goal is to provide a platform to honour outstanding and successful businesswomen and industry achievers in the Peterborough region," says Paula Kehoe, WBN's 2019-20 Awards Director. "These are some of the best and brightest people in our community — women from all ages, ethnicities and socio-economic backgrounds who have developed confidence and skills and provided encouragement, all while accomplishing their business and goals."
Both awards were originally organized by the Peterborough Examiner, with the Business Woman of the Year Award (now the Women in Business Award) established in 2003, and the Judy Heffernan Memorial Award (now the Judy Heffernan Award) established in 2015. Following two years (2017 and 2018) without any awards, in 2019 WBN took over leadership of both awards and renamed them.
"It seemed like a natural fit for WBN to assume responsibility for both awards after the Peterborough Examiner had organized the final event in 2016," Paula explains. "WBN has been supporting women in business since 1961, by connecting members to opportunities, networks, businesses and expertise that empowers them professionally and personally."
"We have supported some of the brightest names in business, creating innovative events and programs designed to help women achieve their individual aspirations. As the host of this event moving forward, we're proud to showcase the best of female talent across the City and County of Peterborough."
The WIB Award recognizes a woman who has demonstrated business leadership leading to job creation, innovation, and increased business acumen, as well as an impact on the community at large, through fundraising, volunteering, and other contributions. The Judy Heffernan Award recognizes a female entrepreneur, mentor, or student who embodies the late Judy Heffernan's legacy of humbly helping others succeed.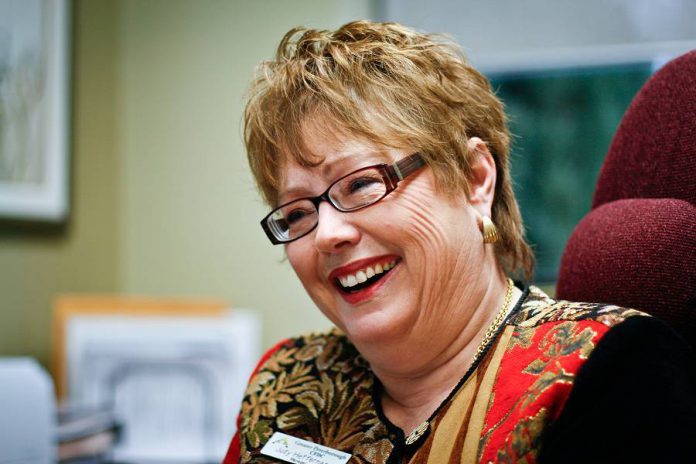 Judy, who was the general manager of the Greater Peterborough Community Futures Development Corporation for 16 years and an active member of the Peterborough and area business community (including WBN), also volunteered her time on many boards and committees. A tireless promoter of the entrepreneurial dreams and passions of women both young and old, she passed away in 2013 at the age of 61 after a brief battle with cancer.
The 2019 recipient of the WIB Award was Monika Carmichael of Trent Valley Honda, and the 2019 recipient of the Judy Heffernan Award was Kim Appleton. In 2019, WBN also introduced the annual Student Business Awards, given to a Trent University student and Fleming College student who are enrolled in a business program (the 2019 winners were Tara Spence from Trent University and Jo Oanh Ho from Fleming College).
Paula Kehoe, as WBN's 2019-20 Awards Director, is leading a committee of WBN members who are organizing the 2020 awards.
"I'm thrilled to chair the committee who are working hard behind the scenes to create a successful event," Paula says. "The new awards committee will meet in September to review the previous event and discuss logistics for next year's event, including securing a date."
Paula notes the awards committee is still in the very early stages of planning, but nominations for the 2020 awards will likely open early in the New Year with April 2020 eyed as a possible date for the awards event.
"The awards committee will be moving forward with fresh ideas to create an evening that's inspiring, engaging, and entertaining," she explains. "Regardless of what we do, the end goal is to bring people together to celebrate the excellence and success of their peers and inspire one another by example."
That end goal reflects WBN's vision to strengthen the community by supporting, empowering, and inspiring women in business.
"It's important to recognize women who encourage ambition, empower confidence, and inspire new female leaders now and into the future," Paula points out. "There's a significant number of businesses in the City and County of Peterborough that are led by women, many of whom are leading the way in innovation, overcoming adversity, and giving back to their community in extraordinary ways."
"Some of these women fly under the radar but should be visible," she adds. "For any woman nominated for these awards, I want them to benefit from the publicity and gain exposure for their business or organization and for themselves."
kawarthaNOW.com will be sharing more details about the 2020 Women in Business and Judy Heffernan Awards when they become available.
For more information about the Women's Business Network of Peterborough, visit www.womensbusinessnetwork.net.