Welcome to another season of the Women's Business Network of Peterborough (WBN). I'm honoured and excited about the opportunity to serve as president for 2019-20, and look forward to enjoying this year with you.
It's my great pleasure to work with the exceptional women on the board of directors. They've been working hard to bring you a line-up of inspirational speakers and events to promote women in a positive way, and to keep us motivated and involved throughout the season.
We have a membership of 176 supportive, intelligent, and diverse group of women from all professional backgrounds. They never cease to amaze me with how much they are willing to do to lend a helping hand to their peers, to serve on a committee, and even volunteering their time as mentors to other members.
Feedback from the membership says members are eager for more opportunities to develop, learn, and navigate their next career moves, or simply to further develop their talents and skill sets. I believe the WBN can continue to deliver those opportunities with this year's program.
The 2019-20 WBN theme is "Be You". I chose this theme because I believe that in all that we do, personally and professionally, we shouldn't over-complicate ourselves.
Everything around us is complicated. The least complicated of all should be you!
Live true to your core beliefs and values. These will help you determine what's right and wrong, and are key to making wise decisions in business.
Being successful is all about having the right mindset. You have to be committed to giving it your all, to having a great attitude, and a can-do spirit.
Even in times of uncertainty, being optimistic can pay off. It turns hard work into success which, in turn, makes you feel all the more confident in business — and in life!
If you are true to yourself, feel joy in what you do, and challenge yourself to keep up the good work, then your mindset will reflect on you. Plus, your family, friends, and colleagues will believe in you too.
WBN is a network that champions diversity and inclusion, with access to other perspectives. Members are safe to be who they are and to promote their business their way. To have an incredible community to support them is icing on the cake. We truly are better together and by embracing who you are, others will embrace you as well — and the rest will follow.
Invest as much time in building relationships with other members, strengthening your brand, and continuing to learn about tools and trends that will give your business or profession an edge. So be sure to benefit from our keynote speakers, trade shows, business spotlights, gala socials, mentorship program, and promotional opportunities — and above all, don't forget to have fun!
If you're new to WBN and feeling nervous about joining, let me tell you that I've been in your shoes. A few short years ago, I joined WBN after moving to Peterborough and I had absolutely no connections here.
I had to put myself out there and meet people — nothing to hide, nothing to fear — and the support was overwhelming. Being part of WBN boosted my confidence, gave me inspiration, support and advice. Importantly, it gave me vital business exposure.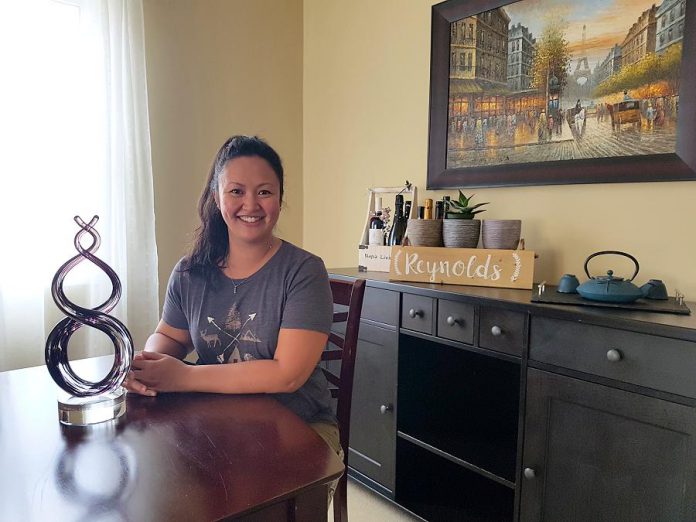 I encourage you to get out there and get involved with WBN and the community. You never know what you'll find, and what you get out of it may even surprise you.
It's great to see returning members and I'm very eager to meet new our members. I look forward to seeing all of you at our upcoming meetings and getting to know each of you. I'm super stoked to crush it this year, together!
Please reach out to me anytime if you have any ideas or questions.
Yours in business,
Grace Reynolds
President, Women's Business Network of Peterborough 2019-20
president@womensbusinessnetwork.net
For more information about the Women's Business Network of Peterborough, visit www.womensbusinessnetwork.net.