It was a busy year for us in 2017. We published more than 1,000 stories covering news and events from across the Kawarthas and launched three special editorial sections. At the end of 2017, we are approaching record readership, with 2.5 million unique readers in 2017.
We couldn't have done it without the support of our talented team of local writers, including (in no particular order) Eva Fisher, Paula Kehoe, Sam Tweedle, Paul Rellinger, Jeanne Pengelly, Josh Fewings, and Shannon Taylor, along with several guest writers. We also maintained a monthly inventory of around 1,000 local events, thanks in large part to our events editor Angela Johnson.
While our top news story in 2017 was Neil Young's Omemee concert, which brought us national attention, we covered many more stories throughout the year. Here are around 250 stories of them, organized by month, that we consider the most newsworthy.
---
January
We began 2017 with a story celebrating Canada's sesquicentennial year, and an announcement about Peterborough's first-ever International Women's Day Conference (yes, it's back in March 2018).
Foreshadowing our top story from Omemee at the end of the year, we ran a heart-warming story about Omemee's Susan McKenzie, who was working a Christmas Eve shift in her support services job at Ross Memorial Hospital in Lindsay when an anonymous family gave her a Christmas gift.
Google honoured Sir Sanford Fleming, the Scottish-born Peterborough inventor of standard time and Fleming College namesake, with a doodle in honour of his 190th birthday.
Peterborough's Mayhemingways (Benj Rowland and kawarthaNOW's own Josh Fewing) announced they had scored a major spring tour backing Juno winner Joel Plaskett and his father Bill.
Peterborough-Kawartha MP Maryam Monsef moved from Democratic Institutions to Status of Women after a Cabinet shuffle, and Prime Minister Justin Trudeau visited Peterborough for a town hall, where he was challenged by an emotional single mom about high hydro costs.
The Women's Business Network of Peterborough announced it had raised $21,000 for YWCA Crossroads Shelter, and the organization also hosted three local female politicans who discussed their experiences as women in politics.
After 152 years, The Pig's Ear Tavern announced it was closing in April, one of several live music venues in downtown Peterborough to close during 2017.
The legendary Red Stradivarius violin came to Peterborough as part of the celebration of the Peterborough Symphony Orchestra's 50th anniversary year, and Mayor Daryl Bennett proclaimed Symphony Week in Peterborough.
In business news, the Junior Achievement Business Hall of Fame expanded by eight inductees, and the City of Peterborough invested $300,000 in the new VentureNorth downtown business hub housing the Innovation Cluster.
Following the demolition of the interior of the Peterborough Public Library building, a Peterborough business owner was frustrated he was unable to reclaim some prime timber to make some tables for the new library.
In local theatre, we reviewed the Peterborough Theatre Guild's production of The Gin Game.
February
The month opened with the announcement that Fleming College carpentry students were going to help build the walls of the new Peterborough County Agricultural Heritage Building opening in the fall (they even challenged Rick Mercer to help).
Peterborough's Andrew Root pitched his popular pulp detective radio drama parody series Crime City to CBC Comedy, Peterborough native Jay Cullen was one of 72 candidates to become one of Canada's two new astronauts (he was later eliminated), Bancroft's Dianne Winmill was selected as music teacher of the year, and Northumberland United Way CEO Lynda Kay retired after 28 years.
Pink in the Rink raised $70,412 for women's cancer research, Peterborough GreenUP launched a new online interactive map to make it easy to fill your water bottle around town, and Lindsay's The Strumbellas were nominated for three JUNO Awards (they won single of the year for Spirits at the JUNO ceremony in April).
VIDEO: The Strumbellas win Single of The Year at the JUNO Awards

In the aftermath of the Quebec mosque shooting, Peterborough's Beth Israel Synagogue opened its doors for multi-faith prayer services in support of the Muslim community.
In business news, Tina Bromley of Tiny Greens won the inaugural Win This Space competition, which included a year-long lease on a downtown Peterborough storefront.
The federal government invested $1.4 million in the new Canadian Canoe Museum, and the Ontario government launched free electric vehicle charging stations at seven locations in Peterborough city and county.
The City of Peterborough launched a public art competition for a UN peace monument at the new urban park planned for Charlotte Street, and a group of women created an International Women's Day quilt to honour 150 unsung female heroes of Canada's history.
Photographer Hayley Rodman captured an amazing close-up shot of a majestic Great Grey Owl near Lindsay.
In local theatre, we reviewed The Theatre on King production of Jean-Paul Sartre's No Exit and the Peterborough Theatre Guild's production of Robert Ainsworth's new play A Life Before.
March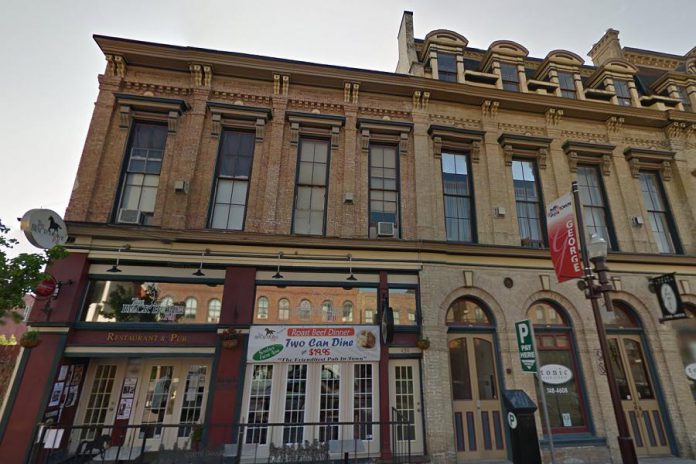 Peterborough's Mary-Kate Edwards released her debut record Blueberry Pie and Peterborough DBIA Executive Director Terry Guiel celebrated his 50th birthday.
Trent University issued a statement defending its Wildlife Forensic DNA lab, after the Subway fast-food chain and some food scientists criticized the lab's results that showed 50 per cent soy DNA in chicken samples.
Feminist comic and actor Candy Palmater delivered the keynote address at Peterborough's first International Women's Day conference, and Amy McLeish and Jennine Hadfield launched PTBO Needs to help a different local charity each month.
Volunteers at the Kawartha Potters Guild created 600 ceramic trilliums for the City of Peterborough Cenotaph to commemorate the 100th anniversary of the Battle of Vimy Ridge, and young Peterborough students painted rocks to be placed through the community to encourage donations for Habitat for Humanity.
Peterborough GreenUP launched a five-year fundraising plan for almost half a million dollars in improvements to Ecology Park, and Trent Lakes Fire Rescue received a donation of oxygen masks for pets.
The Canadian Red Cross decided to closed its Peterborough office and the Black House Pub in downtown Peterborough was listed for sale. After the same developer (Parkview Homes) which purchased Pig's Ear Tavern put a conditional offer on it, Peterborough city council opted to support the development of the two building.
It was also announced the monthly Peterborough Musicians' Benevolent Association Blues Jam fundraiser would move to Dr. J's after the closure of Pig's Ear Tavern in April.
In local theatre, we reviewed Josh Butcher's original one-man show The Origin of a Designated Driver and interviewed Charlie Petch about their vaudeville play Mel Malarkey Gets The Bum's Rush.
April
A couple who were once homeless teens and met at YES Shelter for Youth and Families 12 years ago got a Habitat for Humanity home.
Peterborough City Council denied heritage designation requests for the Pig's Ear and Black Horse properties, clearing the way for a redevelopment.
The Peterborough Humane Society announced a new 2018 fundraising calendar bringing together NHLers — including NHL legend Johnny Bower (who just passed away) — and rescue dogs.
A search and rescue helicopter from CFB Trenton landed at Muddy's Pit BBQ in Keene for lunch.
Peterborough's Dan Duran appeared in the TV series Designated Survivor and joined CHEX as the new weather analyst, and Peterborough's Linda Kash starred in the hit TV series Fargo.
In business news, Peterborough's open streets event won a national award, big box toy retailer Mastermind opened a store in Peterborough, the Innovation Cluster launched The Cube business incubator in downtown Peterborough, Lab Improvements and Loch won the Bears' Lair, the federal government invested $600,000 in Peterborough bio-tech start-up Noblegen, and Peterborough Economic Development rebranded as Peterborough & the Kawarthas Economic Development and relocated its offices to downtown Peterborough.
The provincial government announced Lindsay would be one of three locations for the new Ontario Basic Income Pilot, and the federal government announced a $330 million investment in infrastructure restoration and repair projects for the Trent-Severn Waterway.
Two bike sharing services launched in Peterborough and Bobcaygeon.
In local theatre, we reviewed Enter Stage Right's original play Everybody Loves Archie, two plays by Eugène Ionesco at The Theatre On King, More Than A Memory at the Peterborough Theatre Guild, and New Stages Theatre Company's production of Our Town.
We also ran a story about what $199,000 buys you in the Peterborough real estate market.
May
The month began with the City of Kawartha Lakes breaking ground on a new 24-unit building in Lindsay aimed at ending long-term homelessness.
The Canadian Canoe Museum announced its Connected By Canoe sesquicentennial project, where 18 paddlers from diverse backgrounds would travel the Rideau Waterway in a 36-foot canoe.
Parkview Homes' conditional offer on the Black Horse Pub property fell through, delaying owner Ray Kapoor's hopes for retirement while pleasing those who wanted to preserve the historic building.
Cobourg announced its first-ever country music festival to take place in June.
Lindsay's Katherine Davidson, living with stage four breast cancer, was selected as Honorary Bat Girl for the Blue Jays. Peterborough's Faith Dickinson received The Diana Award from Prince William and Prince Harry, Peterborough's Beau Dixon received the Toronto Theatre Critics Award and was nominated for a Dora Award for his role in the rock musical Passing Strange, and Jack Roe's 35-year run as the Peterborough correspondent on CBC Radio's Ontario Morning came to an end.
Retired astronaut Chris Hadfield's visit to Lindsay raised $40,000 for United Way for City of Kawartha Lakes.
High water levels raised unwarranted concerns about the quality of city drinking water and delayed the full opening of the Trent-Severn Waterway. When it finally opened on May 27, Parks Canada celebrated with a drone video of the locks on the waterway.
Both Trent University and Fleming College added new faculty positions
The Peterborough Downtown Business Improvement Area launched free wifi in downtown Peterborough,
The Peterborough Folk Festival announced that Canadian musical icon Buffy Sainte-Marie would kick off the annual music festival, and Canadiana-themed butter tarts were the focus of the Kawarthas Northumberland Butter Tart Tour.
Police identified the youth who left an injured muskrat at Rice Lake and ruled out criminal behaviour, and a black bear was spotted roaming the west end of Peterborough.
The provincial government announced an investment of $9 million in the new Canadian Canoe Museum, and the federal and provincial governments announced an investment of $3.9 million to improve Peterborough wastewater treatment.
In local theatre, we wrote about the New Stages production of Disgraced, Thomas A. Stewart Secondary School's production of Curtains, Lakefield College School's production of Rumours, and Deborah Kimmett's one-woman show The Year of The Suddenly.
We profiled a number of local businesses, including: Omemee Heights Greenhouse, Cavan Hills Landscaping, and Lifestyle Home Products; Elmhirst's Resort, The Greenhouse on the River, and Apsley Home Hardware Building Centre, Bobcaygeon's Gilstorf & Gray; and Lifestyle Home Products, Kawartha Lakes Landscaping, and Merrett Home Hardware.
June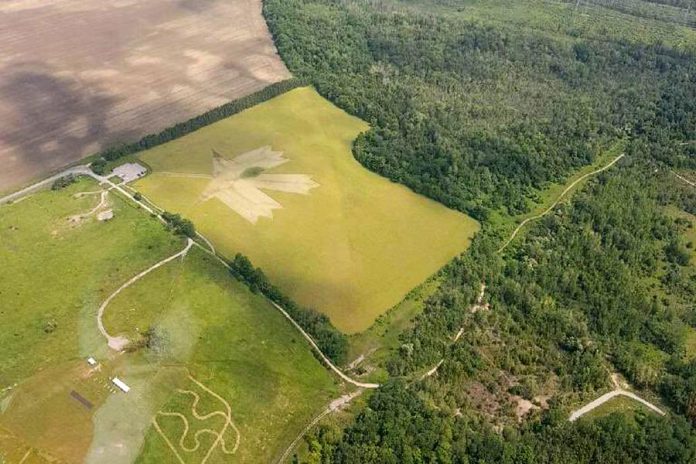 In June, we launched our special editorial section on Peterborough's Dragon Boat Festival, featuring 14 stories related to the annual fundraiser supporting state-of-the-art breast screening equipment at Peterborough Regional Health Centre.
YWCA Walk a Mile in Her Shoes raised $138,204.12 for the Crossroads Shelter.
The Electric City Culture Council hosted a panel discussion on keeping heritage spaces for artists in downtown Peterborough. Later in the month, resident artists of the historic Commerce Building in downtown Peterborough building were reassured by the new owner.
The City of Peterborough sought artists and designers for two more public art projects, a mural at YES Shelter for Youth and Families and artwork for new plaza at renovated Peterborough Public Library, and announced the winning design for the UN Monument for Peterborough's new Charlotte Street Urban Park.
Artwork from local elementary school students celebrated Canada's 150th birthday, and we launched our special editorial section for Peterborough 150 – Celebrate at Home.
The Miawpukek First Nation gifted a traditional birch bark canoe to The Canadian Canoe Museum, and the museum launched a new promotional video showing the importance of waterways in Canada's growth. The museum also filled the Peterborough Lift Lock with 328 canoes and kayaks in honour of Canada 150.
Sears Canada, with three stores in the Kawarthas, issued dismal results for the first quarter of 2017 and warned about its financial future, leading to predictions the iconic Canadian retailer was on the ropes. Shortly thereafter, Sears entered bankruptcy protection in an ultimately unsuccessful attempt to restructure the company. In October, the Ontario Superior Court of Justice granted approval of a motion from Sears Canada to liquidate all 130 of its remaining stores and all of its other assets.
Trent University launched the Chanie Wenjack School for Indigenous Studies on National Aboriginal Day, honouring the Anishinaabe boy who died in 1966 after running away from residential school.
In animal news, Chubby and Jackson, two beloved box turtles stolen from the Riverview Park & Zoo, were returned to the zoo. The Peterborough Humane Society sought donations for surgery for Forrest the cat, after the cat was found shot by unknown attacker. Forrest recovered after a successful surgery.
An Ornge air ambulance crew took an aerial photo of patriotic maple leaf in a field when flying back from Peterborough.
In local theatre, we reviewed Frenzy for Two, or More at The Theatre On King, Globus Theatre's production of Real Estate, Art for Awareness' production of Ordinary Days, and The Theatre on King's production of The Lover.
We profiled a number of local businesses and organizations in June, including: Sky Haven Equestrian Centre; Lang Pioneer Village, Viamede Resort, and Darling Insurance; Seven Pines Stables, City of Peterborough Recreation Division, and Kawartha Settlers' Village; Escape Maze, Kawartha Settlers' Village, and Spirits and Splatters; the Art School of Peterborough and Partridge Horse Hill; Peterborough Multi-Sport Club and the Art Gallery of Peterborough; and the Kawartha Potters' Guild.
July
The Peterborough Humane Society brought in 18 dogs and cats from Big Trout Lake First Nation in northern Ontario for adoption in Peterborough.
Ronnie Hawkins put his Stoney Lake estate on the market for $4.3 million (it has since been sold).
The City of Kawartha Lakes was designated as a Bee City in recognition of the city's commitment to protect pollinators and their habitat.
We posted a series of photographs by wildlife photographer Cliff Homewood of a family of loons.
After being cleared by OLG, a Peterborough man was finally able to claim his $3.3 million lottery win.
In business news, Peterborough entrepreneurs Canuck Play released the first Canadian football video game for XBox and PC, Electric City Dental announced it would be opening in Peterborough this fall, and a new distillery is opening in Peterborough's East City.
In local theatre, we reviewed 4th Line Theatre's Bombers: Reaping the Whirlwind, the Peterborough Theatre Guild's production of The Foursome, Globus Theatre's Raising the Barn, and Wes Ryan's These Are Horizon Days.
We profiled the following local organizations and businesses in July: ZimArt's Rice Lake Gallery and Hutchison House Living Museum; Gallery on the Lake, Jewel Just Fine Wines, and Lynn Woodcroft of Royal LePage Frank Realty; Treetop Trekking Ganaraska; The Monocle Centre for the Arts and Down to the Last Details; and Lifestyle Home Products.
August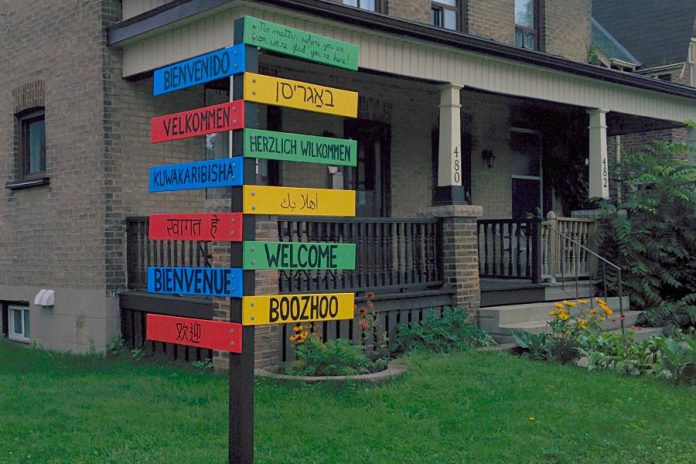 After negative feedback from the community, the City of Peterborough decided to abandon the proposed tagline "Where roads and rivers meet".
A local couple installed a multilingual welcome sign in Peterborough to express a message of solidarity with immigrants and Indigenous people.
Ray Marshall left Showplace Performance Centre in Peterborough after serving as general manager for 11 years.
In the arts scene, a Prince Edward County artist was selected to paint the Aylmer Street mural in downtown Peterborough, and local Ojibway artist Kris Nahrgang created a totem pole for the CNE in Toronto.
Cornerstone Family Dentistry honoured the memory of Dr. Judith Buys, the beloved dentist who died tragically a year ago, with a memorial bench.
It was announced that Youngtown Museum, the Neil Young exhibit at Olde Gaol Museum in Lindsay, would close for good in September.
There was the solar eclipse on August 21st, and the Norwood episode of CBC's Still Standing aired on August 22.
A group of Peterborough musicians and filmmakers came together to support SickKids Foundation by releasing the song and video "Strong Heart" to support Childhood Cancer Awareness.
A Peterborough man became a Facebook celebrity as he walked to Nova Scotia, when more than 10,000 people followed Michael Sutherland's bucket-list journey.
The City of Peterborough installed an accessibility mat at Beavermead Beach in Peterborough.
In business news, the Ontario government invested $311,200 in Kawartha Dairy in Bobcaygeon and invested $137,700 into an expansion of Dynacast in Peterborough.
McCloskey International pledged $1 million to the Peterborough Regional Health Centre to support babies and children's programs at the hospital, and GE announced that manufacturing operations in Peterborough will cease in the fall.
In local theatre, we reviewed 4th Line Theatre's The History of Drinking in Cavan and Globus Theatre's production of Halfway There.
In August, we profiled local business Kawartha Collaborative Practice in a series of stories, as well as Champions Gymnastics.
September
We launched our special editorial section for the Women's Business Network of Peterborough. The section includes 10 stories on the organization, including music executive Denise Donlon's keynote address, as well as profiles of 24 members.
We featured stories on local performers and artists including Peterborough's Kate Suhr who launched her first full-length album Selkie Bride, Peterborough native Michelle McLeod who had her breakout film role in Don't Talk to Irene, Omemee FX makeup artist Rhonda Causton whose work appears in the horror film Latched (filmed near Fenelon Falls) which premiered at TIFF, and Peterborough native Kevin Briones who brought his comic art back home for the first time at the Peterborough Comic Con.
Eleven new inductees to Peterborough's Pathway of Fame were honoured in September, City of Kawartha Lakes police chief John Hagarty announced his retirement, and seven local business owners took home a share of funding under the Starter Company Plus program administered by Peterborough & the Kawarthas Economic Development's Business Advisory Centre,
In political news, we ran a story about the experiences of the spouses of local municipal politicians and preparations for a rally against racism and intolerance to protest an anti-immigration rally organized by a white supremacist.
In music news, popular Peterborough musician Rick Young was diagnosed with cancer and local filmmakers began raising funds for a documentary about the Pig's Ear in Peterborough. Iconic musician Neil Young was spotted in downtown Peterborough in advance of his induction into the Canadian Songwriters Hall of Fame in Toronto
In local theatre, we reviewed Two Short One Acts by F. Scott Fitzgerald at The Theatre on King in Peterborough and Lindsay Little Theatre's production of Peggy and Grace.
Our profiles of local organizations and businesses this month included Camp Kawartha, Peterborough Multi-Sport Club, and Needles in the Hay.
October
We began October with our feature story on the Solidarity Weekend, where hundreds of people came together in downtown Peterborough to peacefully protest racism and white supremacy.
A benefit for cancer-diagnosed musician Rick Young was organized for November.
We broke the news that Apsley would be losing its only bank.
The Spill in downtown Peterborough closed on October 19th, and a fundraiser was held for owner Dave Tobey on October 24th.
Peterborough Police Chief Murray Rodd announced his retirement
The basic income pilot program launched in Lindsay, and poverty in the Lindsay area was featured on TVO's The Agenda with Steve Paikin.
Peterborough Regional Health Centre announced it would be opening 24 new inpatient beds year round to help address surging patient volumes.
Viamede Resort in North Kawartha was featured in the Rick Mercer Report, where the comedian attended the 27th Annual Golden Rescue Picnic in September, and Peterborough native and ultramarathoner Mallory Richard broke a world record in a 100-mile trail run in Illinois.
In business news, Peter Blodgett was named Peterborough's Business Citizen Of The Year at the 2017 Peterborough Chamber Business Excellence Awards, and we profiled the work of Peterborough's Innovation Cluster in helping tech and innovative startups to get a boost.
In arts news, Peterborough hosted The Canadian Festival of Spoken Word and, on the heels of the closure of The Spill, Music Peterborough held a public consultation about Peterborough's live music scene.
In local theatre, we reviewed Margo MacDonald's one-woman show The Elephant Girls, Evil Dead The Musical, Planet 12 Productions' Incident On Gun Mountain, Lindsay Little Theatre's production of Constellations, and Amber Coast Theatrical's Justin's Jukebox — a tribute to Justin Hiscox.
We ran profiles on local businesses Anchor & Co., Gilbert + Burke of Lindsay, and Watson & Lou.
November
By far, our biggest news in November (and for the year) was Neil Young. After speculation that he would be performing in Omemee in December, kawarthaNOW broke the news that he would indeed be performing at Coronation Hall.
But it wasn't only Neil Young. We also wrote about a campaign to deliver winter coats to remote First Nations communities in Northern Ontario, a local author who has written a biography of her 18th-century mapmaking ancestor, and Lakefield Instagram star Owen the Griff heading to New York.
In business news, Lakefield dominated at the Kawartha Chamber Awards of Excellence, where Jennie MacKenzie was named Citizen of the Year, Mike and Aileen Dean received Lifetime Achievement Award, and McLean Berry Farm was honoured with two awards. We also published the first businessNOW, our new weekly column covering business news and events from across the Kawarthas.
The Peterborough community was shocked to learn of the death of Peterborough musician Jan Schoute, who passed away suddenly at the age of 54.
In other Peterborough news, a major overnight fire in downtown Peterborough closed three local businesses, including Simple, Ash Nayler Photography, and Natas Cafe.
Volunteers covered the bridge in Bancroft with hand-crafted poppies for Remembrance Day and Millbrook was turned into 19th-century Charlottetown PEI again for the second season of the CBC-Netflix production of 'Anne'.
In the arts scene, the economic insecurity of working artists was the theme of the Precarious Arts Festival, and hip hop artists came together for a youth and indigenous fundraiser in Peterborough.
Tickets became available for the second annual International Women's Day Conference, to be held in March 2018 in Peterborough.
A benefit was held for cancer-diagnosed Peterborough musician Rick Young, where Rick & Gailie released their first record.
The Stockdales were announced as Peterborough's Farm Family of the Year, Campbellford's Brian Finley and Donna Bennett and Peterborough's Katherine Carleton were invested in the Order of Canada, and Peterborough screenwriter Carley Smale's new movie Snowed-Inn Christmas was set to premiere in December.
We ran a feature story about 17-year-old new Canadian Omar, who has his dream job thanks to Sue Houde at Two Dishes in Peterborough.
Under a deal between Torstar Corp. and Postmedia Network Canada Corp., Northumberland Today closed and the Peterborough Examiner came under new ownership.
In other news, Crayola Canada has now raised over $1 million for United Way for the City of Kawartha Lakes, one of the world's leading exhibit design firms will work on the new Canadian Canoe Museum in Peterborough, and Erica Cherney's legacy was recognized in a big way at Showplace Performance Centre with the main performance space named The Erica Cherney Theatre.
In local theatre, we reviewed Fugitive Songs, the St. James Players' production of Mary Poppins, the Lakefield College School production of Damn Yankees, and Kate Story's original play Festivus Rattus Rattus 2035!.
We also profiled Peterborough business The Avant-Garden Shop, celebrating 15 years in business.
December
We started off December with two reviews of Neil Young's "Home Town" concert in Omemee, both by watching the live stream and from an Omemee resident who was there in person.
Another Canadian music icon, Gordon Lightfoot, who visited The Canadian Canoe Museum to donate three of his canoes, one of which was the subject of one of his songs.
In business news, the top 10 finalists were announced for the 2018 Win This Space entrepreneurial competition in downtown Peterborough, seven more local small business owners received funding under Starter Company Plus, an Anishinaabe entrepreneur won the annual Cubs' Lair competition in Peterborough, and Jeff Day announced he is resigning as executive director of Community Futures Peterborough.
In other local news, Community Care City of Kawartha Lakes was a grand prize winner of the Aviva Community Fund, Peterborough County took steps to stop littering on James A. Gifford Causeway, three communities in the Kawarthas received funding for new bike lanes and cycling infrastructure, and seven communities in the Kawarthas will receive $3 million in gas tax funding, and the Peterborough Humane Society's new $10 million facility will be a first in Canada,
In the arts and music scene, local filmmaking duo Mary Holley and Michael Morritt have reunited for an award-nominated documentary about Lakefield sculptor Don Frost, which makes its Peterborough debut January 26 at the annual ReFrame Film Festival. We also broke the news about the closing of Catalina's in downtown Peterborough.
Millbrook native Serena Ryder performed a hometown concert at Showplace Performance Centre, and Market Hall Performing Arts Centre is celebrating 20 years on January 12th.
In local theatre, we reviewed Thomas A. Stewart Musical Theatre Program production of Rogers and Hammerstein's Cinderella and The Theatre on King's Hellhound on My Trail. Theatre reviewer Sam Tweedle also profiled Peterborough's Planet 12 Productions and selected his picks for the best theatre in Peterborough and The Kawarthas in 2017.
Finally, we profiled two local businesses: Peterborough's new META4 gallery and Lakefield's The Chocolate Rabbit.